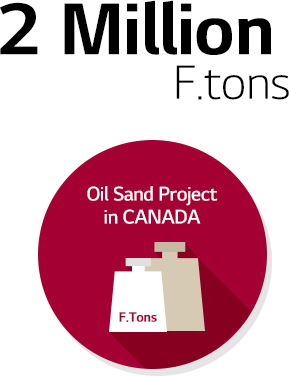 North American Oil Sands Project
Pantos Logistics has differentiated project logistics competitiveness
based on ultra-heavy cargo transport capacity, consulting abilities, and overseas networks.Pantos Logistics has differentiated logistics capabilities in the energy plant sector!
Pantos Logistics pioneers the oil sands project-related logistics market based on
its expertise accumulated in the fields of heavy cargo, oversize cargo, and bulk cargo transportation.
We won the largest oil sands heavy distillate plant construction project in North America and transported
2 million F.tons of equipment.
We established a strong execution organization by entering the North American market together with our client.
We will secure differentiated logistics capabilities in the future energy plant sector as one of the sustainable businesses for the next 30 to 50 years.