The rapid growth of Vietnam's export-oriented manufacturing sector has boosted demand for logistics services. However, the local logistics sector has largely failed to fully meet demand. As a result, many enterprises are now looking for the opportunities to join the sector.The Word Bank in late 2015 forecast economic growth of 12 percent by 2020 with export and import turnover standing at $623 billion, bolstering Vietnam's already solid reputation as an investment destination of choice.
Its logistics sector, as demand increases, is in need of better quality services to seize the potential on offer. Yet Vietnam's logistics providers have still to find common ground with exporters. Most are small and medium size and short on capital and infrastructure such as warehousing, IT, and even vehicles.
According to the Vietnam Logistics Business Association, logistics costs in Vietnam represent 25 percent of annual GDP, significantly higher than in countries such as the US, China and Thailand. When the TPP officially comes into being, tariffs on tens of thousands of goods will gradually come down to 0 percent, boosting Vietnam's imports and exports and requiring a logistics sector that can cope.
The facts
According to a report by HKTDC Research, Vietnam, ,situated to the southeast of the Indochinese peninsula and with a 3,200km coastline, depends heavily on sea freight transportation for its external trade. Since 2007, Vietnam's container port throughput has been expanding at a compound annual growth rate of 12.5%, reaching 8.1 million TEUs in 2013 (double the volume seen in 2007). Driven by exports from foreign-invested manufacturers and by the import of intermediate and capital goods, Vietnam's external trade again flourished in 2014, with exports and imports growing by 14% and 12%, respectively.
A recent report from the Vietnam Logistics Business Association said that the sector recorded average growth of 20 to 24 percent each year despite the outsourcing logistics market only accounting for 3 to 4 percent of total GDP. In 2014 and 2015, 80 percent of enterprises in the sector reached or exceeded their annual plans. Seventy percent of logistics enterprises recorded profits while only 1 percent went bankrupt; much less than in other industries. A number of large firms, such as SNP, Gemadept, Vinafco, Transimex Saigon, Vinafreight, Viconship, Vietfracht, and Sotrans were viewed as operating in a very professional manner.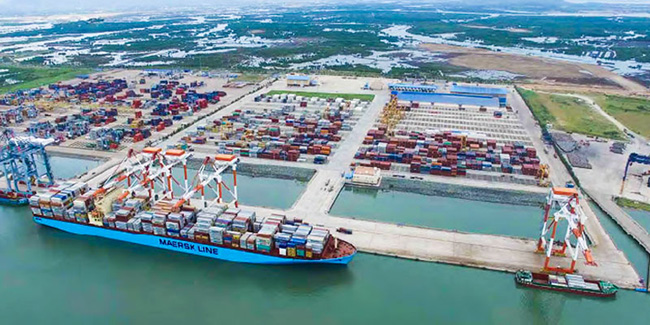 Cai Mep – Thi Vai Port
Figures from the Vietnam Logistics Business Association also show that the average charter capital of logistics companies is about VND4-6 billion ($180,000- $270,000); three or four times higher than in 2007. The number of small and medium-sized enterprises account for 72 percent, while the remainder are large enterprises with charter capital of more than VND20 billion ($890,000). The number of enterprises using integrated logistics services providers or a third-party logistics provider (3PL) has grown over recent years and now account for 15 to 20 percent.
The sector has continued to embrace information technology, with 10 percent of enterprises being equipped with Enterprise Resource Planning systems, 17 percent using Electronic Data Interchange, and most using customs and accounting software. In transport, 19 percent of enterprises use transportation management systems and 29 percent use GPS. Meanwhile, in warehousing, nearly 17 percent use bar code systems and warehouse management software.
Vietnam's logistics industry has built trust with not only domestic but also international customers, leveraging local advantages and cooperating with foreign firms to integrate logistics activities.
Following Vietnam's 2007 World Trade Organization (WTO) accession, foreign investors were allowed to set up joint-venture logistics companies. Since 2012, it has been permissible for wholly foreign-owned enterprises (WFOEs) to provide international maritime transport and courier services. In line with its WTO commitment schedule, Vietnam's logistics sector further opened up from January 2014. As of that date, WFOEs have been allowed to provide container station and depot services, storage and warehouse services, as well as freight transport agency services.
Notably, there is a rising trend for both local and multinational enterprises to outsource logistics functions to third-party logistics services providers (3PLs). In addition, Vietnamese logistics companies are keen to collaborate with their foreign counterparts, particularly those that have a large customer base and a reputation for delivering high standards of services.
Thanks to its underdeveloped transport infrastructure and inadequate logistics facilities, logistics costs in Vietnam are estimated to run at about 25% of GDP, far higher than the 18% in China and the 13% in Malaysia. This presages a huge scope for efficiency gains in the longer run, in particular through the establishment of Vietnamese-foreign collaborations. In a 2014 report, the World Bank noted that a more competitive transport and trade logistics system in Vietnam could be a new driver of sustained economic growth in the country, enhancing productivity as well as boosting business competitiveness.
Currently, foreign companies dominate Vietnam's logistics market, particularly in the international transportation segment. There are about 40 foreign shipping firms in Vietnam, handling more than 80% of the country's imports and exports, primarily with regard to trade with the European and American markets.
According to the Vietnam Logistics Business Association, there are about 1,300 logistics companies in the country. Although domestic companies represent 80% of the total number of logistics firms, they only account for about 25% of total market share. Most of these home-grown businesses are small-scale companies with limited financial and human resources.
With an eye on the growing and increasingly liberal logistics market, many global shipping companies – including Maersk, NYK Line and APL – have strengthened their presence in Vietnam, offering a variety of value-added services, such as pre shipment inspection, labelling, and pick-and-pack. In addition, a number of Hong Kong logistics companies are now operating in Vietnam. Kerry Logistics, for example, has established logistics centers in Hanoi, Da Nang and Ho Chi Minh City.
The expansion of the multinationals in Vietnam is creating a growing demand for supply-chain management facilities, particularly with regard to handling complex sourcing issues, production requirements and servicing sales networks. This growth, however, has spurred concerns among a number of the foreign logistics companies over lack of experienced and professional human resources in the Vietnamese logistics sector.
Chairman Do Xuan Quang of the Vietnam Logistics Business Association said that only 5 to 7 percent of workers are well trained and educated while 85 percent of enterprises must train their workers after they are employed. About 40 percent of logistics companies said their workers satisfy their requirements while 23 percent complained about low skills.
Ms. Le Hoang Oanh, Vice President of Avina Logistics, said Logistics and distribution power currently lies with foreign investors and enterprises while domestic firms only play a minor role. Preferential investment policies, the appearance of 100 percent foreign invested enterprises, and a lack of technology transfer make it difficult for domestic companies to seize opportunities and secure resources. Vietnam is losing its distribution power in the global supply chain as a result.
According to Deputy Minister of Industry and Trade Tran Tuan Anh, in recent years the government has spent a large part of the State budget and ODA resources to invest in infrastructure to facilitate freight transport and the development of logistics services. Vietnam's seaport network has also seen investment in large-scale constructions and modern equipment.
However, one of the major difficulties for logistics enterprises is the poor connection between infrastructure and commodity centers. Most cities and provinces lack forwarding centers and dedicated supply services.
Ms. Le Hoang Oanh said that transport infrastructure, connectivity between seaports, airports, traffic routes, production areas, and warehousing is inconsistent so vehicles need to travel further and carry less cargo, leading to high logistic costs.
The legal and institutional framework for logistics is also quite complex and in need of closer coordination between relevant agencies. Administrative procedures are slow and overlap between management agencies as well as legislation, which affect efficiency, added Mr. Quang.
Another problem for the sector is that information technology is not sufficiently applied and productivity is low, Oanh said, adding that about 25 to 30 percent of companies choose to outsource logistics services, which also affects efficiency and the development of logistics outsourcing in Vietnam.
Logistics sector needs support
Logistics trading has not had adequate conditions for development in Vietnam though it is considered a cash-cow sector, Deputy Minister of Industry and Trade Nguyen Cam Tu has said.
He said that Vietnam should create favorable conditions for trade activities as well as build an effective logistics sector for better exports. In addition, the country should have high value products in the world market while increasing integration in the seaport sector.
He added that the regulations on border gate trade, especially transport infrastructure and logistics services, had not been given attention. He suggested that Vietnam should improve service quality, infrastructure and trade to promote key export sectors.
According to experts, most Vietnamese enterprises signed import contracts under Cost, Insurance and Freight (CIF) and export contracts under Free on Board (FOB) method, thereby transporting a majority of goods through foreign shipping companies. This was the reason that a relatively big amount of transport fees of $17 billion a year for imported and exported goods were paid to foreign firms.
Logistics included warehouse services, transport and loading. In some countries such as Singapore, the logistics costs accounted for only 12 percent to 15 percent. However, the cost in Vietnam was as high as 20 percent of the total for each export item. In addition, the lack of human resources for logistics services has also affected the competitiveness of exporters.
Experts proposed that Vietnam should have reforms at the macro level, focusing on facilitation of trade activities.
The many free trade agreements (FTAs) Vietnam has signed and the establishment of ASEAN Economic Community (AEC) late last year will lead to increases in both imports and exports; foreign investment is predicted to grow strongly. Many logistics enterprises in ASEAN countries are keen to expand their markets. Enterprises from these countries have a deeper understanding of the laws, customs and culture of Vietnam than those from other countries, making development and integration easier.
To face the foreign challenge, many local logistics enterprises agree that they need to work together to create a complete chain, because loose links are paving the way for foreign competitors to dominate the market.
Potential
Though facing major competition from foreign enterprises, many experts still believe there is a good future ahead for local logistics enterprises, especially given that the free trade agreements (FTAs) signed and the TPP will boost foreign direct investment (FDI) flows into Vietnam's manufacturing sector. Infrastructure, while still poor, is undoubtedly improving and links are being created between manufacturing areas and product destinations. Other obstacles, like customs procedures, are also getting better.
Over the last two years a number of major infrastructure projects have been completed or broken ground, such as the Long Thanh – Dau Giay Highway, the Noi Bai – Lao Cai Highway, the Hanoi – Hai Phong Highway, the Ben Luc – Long Thanh Highway, and National Road No. 51 connecting industrial zones with Hiep Phuoc Port and Thi Vai – Cai Mep Port.
The government and the Ministry of Transport are also working together to issue policies to direct, support, and encourage the sustainable development of the domestic logistics sector, such as a policy on controlling truck weights on roads and others aimed at getting the most out of railways and ports.
Vietnam has been proactive in implementing the One-Gate ASEAN mechanism, according to Mr. Hoang Viet Cuong, Deputy Director General of the General Department of Vietnam Customs.
"This will provide many practical benefits for logistics enterprises, such as cutting the time to complete procedures and lowering fees. Vietnam will cooperate with Indonesia, Malaysia, Singapore, and Thailand to complete technical connections this year so One-Gate ASEAN can come into being," Cuong said.
The government also decided recently to set up a committee to formulate policy for enhancing the competitiveness of Vietnam logistics sector and expects to issue a working plan in June next year, which will present huge opportunities for local enterprises to develop.
In order to make Vietnam's logistics sector improve and develop sustainably, experts agree that the State needs to create a legal framework standardizing services, upgrading infrastructure, and improving the quality of human resources. There must also be solutions to direct and encourage cooperation between logistics enterprises so together they may compete with foreign players.
There is potential for development, experts believe, but much needs to be done regardless of how many opportunities await.
Source: Vietnamnet